Hardy, Practical and Stylish Outerwear
Centuries of hunting and fishing in rural Britain have led to the evolution of a hardy, practical, and stylish piece of outerwear that is useful in all kinds of settings and weather. Often called the shooting jacket or the field coat, it is a roomy, weatherproof garment with large pockets intended for shotgun shells or other gear, and a wide collar to shield the wearer's neck. In 1985, Chrysalis England began producing its own version of this iconic jacket, which the Andover Shop is proud to provide to you.
Chrysalis manufactures their outerwear in Corby, Northamptonshire, and has combined traditional materials with specialised techniques to create a line of famously good-looking and functional outerwear that can be worn out in the woods or in the heart of the city. Each of their garments is hand-cut and built around an interlining consisting of a waterproof membrane, which is breathable enough to keep the wearer comfortable while protecting them from rain or snow. The Field Coat combines this membrane with a classic tweed or melton cloth outer shell, retaining the classic British style and robustness that these historic materials provide.
Figure 1:The field coat originated as a weather-resistant hunting garment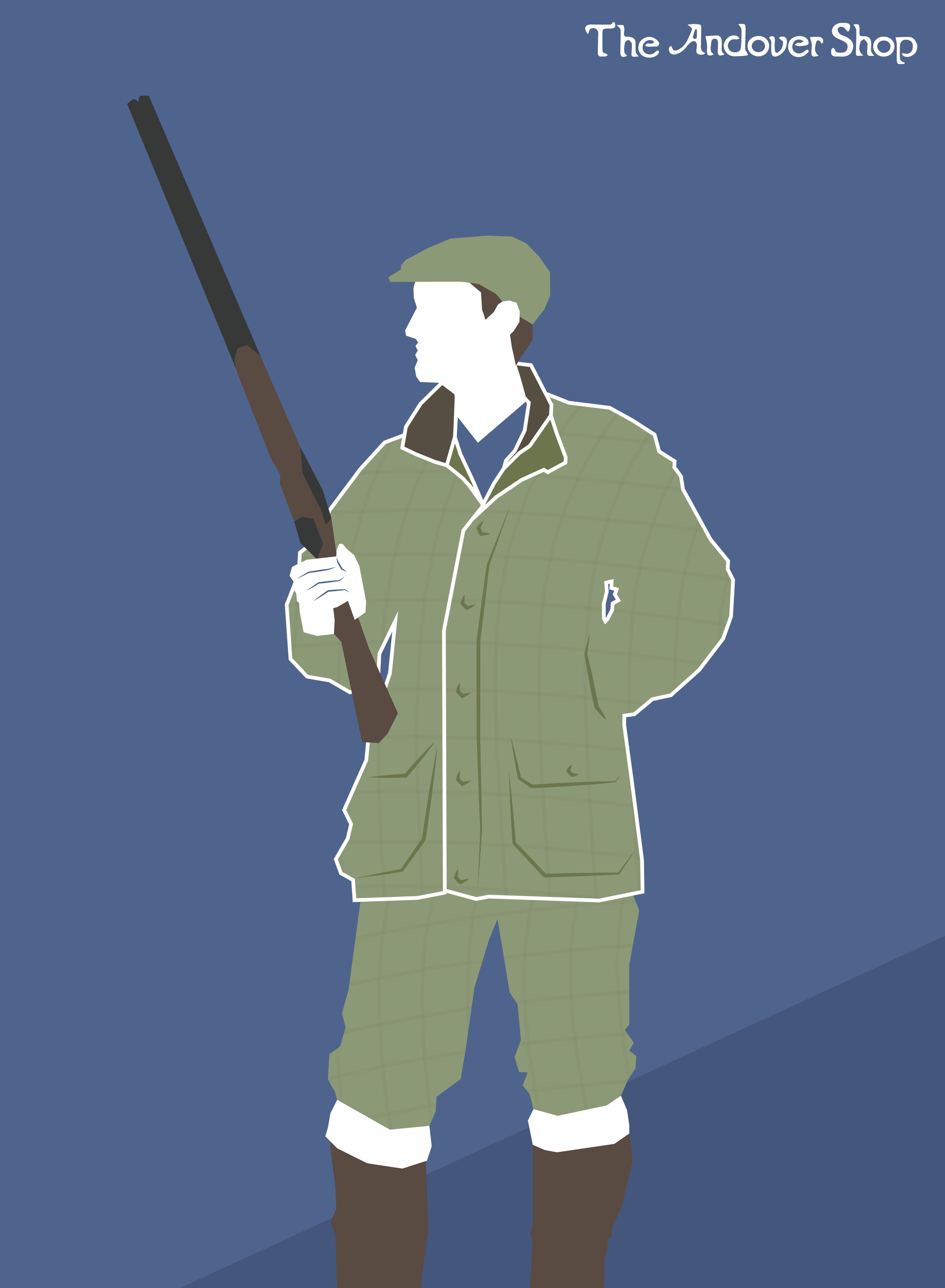 Details of the Chrysalis Field Coat
Staying true to the classic Field Coat style, Chrysalis's coats have two hand-warmer pockets high on the chest, with two wide bellows pockets beneath. Originally intended to hold shotgun shells while out hunting, these pockets are capable of stowing a sandwich, a knit hat, or anything else you might need to carry. As a reminder of the jacket's hunting background, there are tabs hidden inside the hand-warmer pockets that can be used to hold the bellows pockets open for easy access. These small details point to the care that has been put into designing these jackets.
Other practical details that make up the Field Coat are raglan sleeves, knit cuffs hidden inside the sleeves, to keep the wind out, and a wide melton collar that can be turned up to protect the wearer's neck and face. All of these features combine to form a garment that protects the wearer from all but the heaviest winter weather. With the interlining guaranteed against leakage for two years, you couldn't ask for a more reliable Winter jacket.
Figure 2: Chrysalis makes a variety of Field Coats to chose from.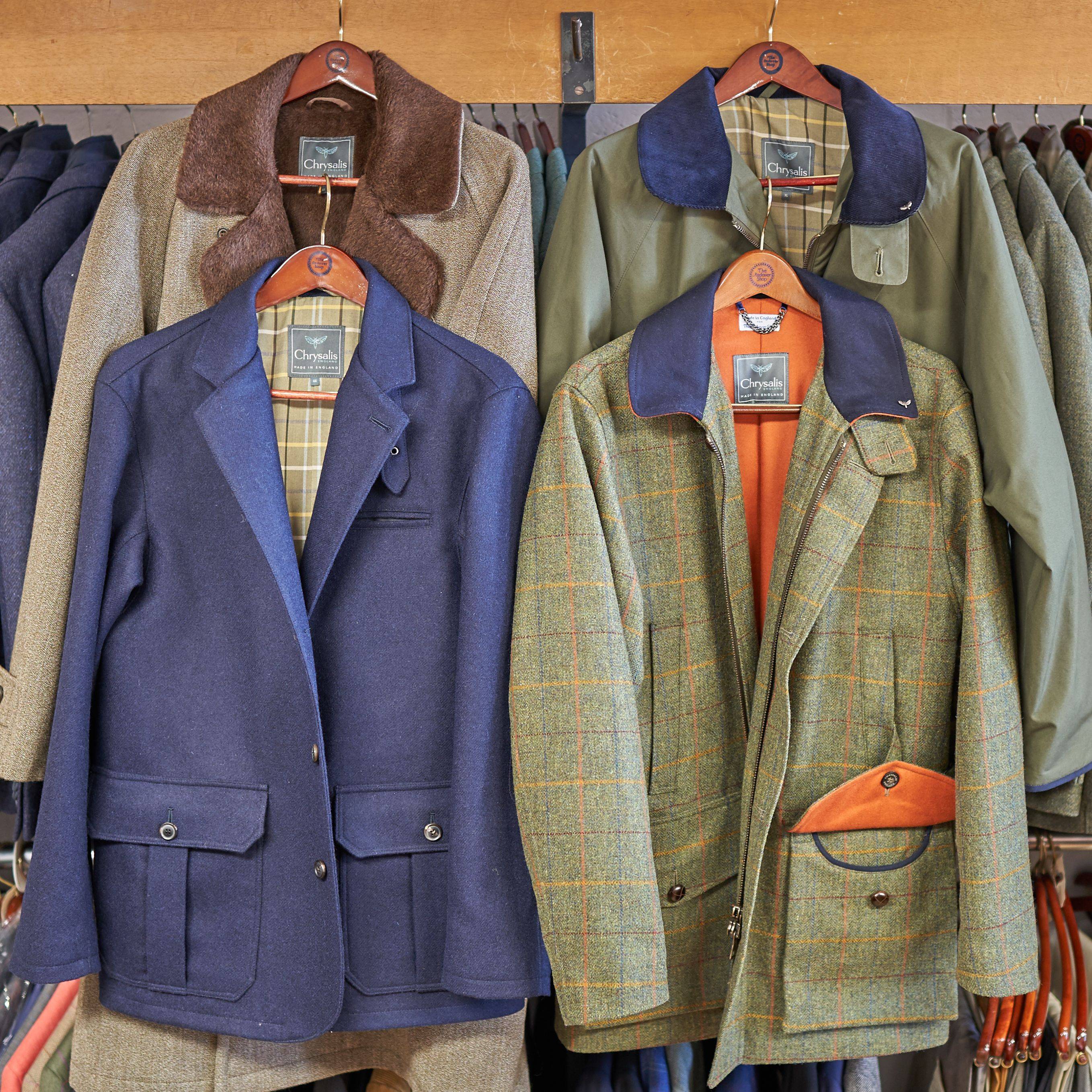 Specialty Orders Give you the Ability to Customize
The Andover Shop is privileged to partner with Chrysalis to create special-order outerwear in a variety of materials. Customers have the option to choose whatever lining, trim, and shell they wish in order to create field coats in multiple weights for any season. An example of a lighter weight version is the Chiltern Dry Wax Field Coat, which has an outer shell of green waterproof cotton twill, milled in Scotland. With a light cotton lining and black corduroy collar, it melds the classic colors and textures of waxed hunting jackets with the practical cut and high production quality that Chrysalis is known for.
Most Chrysalis Field Coats are designed to fit over other layers, and are roomy, full-fitting garments. If you prefer a slimmer fit, we advise you to go down one size, and our staff are happy to provide any guidance on the coat you are interested in. Our special order program with Chrysalis will allow you to dial in the fit and details of your purchase as much as you want, so that you will have an ideal coat that will last you for years.
Figure 3: The Field coat is available in Loden Cloth, Dry Wax cotton, and a variety of tweeds.