The Importance of Wool Production in Great Britain
and Ireland
Most of the clothing that we cover here on The Andover Shop Blog originates in the British Isles. Famous for their changeable weather, particularly in chilly winters, Great Britain and Ireland are also historically a center of wool production. During the Middle Ages, the English economy was supported primarily by the production of sheep's wool and the weaving industry. The historical importance of this industry can be seen in the fact that to this day, the presiding officer of the House of Lords sits on The Woolsack, a symbolic chair stuffed with wool.
Figure 1: A tweed sport coat is a versatile wardrobe staple for cold weather.

The long history of wool fabric production in Great Britain and Ireland naturally led to the creation of regional weaves, and in the harsher climes of Scotland and Ireland, homespun fabrics eventually evolved into tough, moisture-resistant wool cloth that would become known by the name Tweed.
The material we call tweed was not always known by that name. Until the 19th century, it was known as "tweel," the Scots Language equivalent to the English term "twill." Twill is a style of weaving that creates durable, diagonally ribbed cloth which can be seen today in cotton poplin, gabardine, and tweed. A traditional story tells that in the 1830s, a shipment of tweel arrived in England from the textile-producing area near the River Tweed. The merchant who received it misinterpreted the term "tweel," believing that it was a trade name for the material, and began to advertise it as "tweed."
Figure 2: The term 'tweed' comes from a 19th-Century merchant's misunderstanding.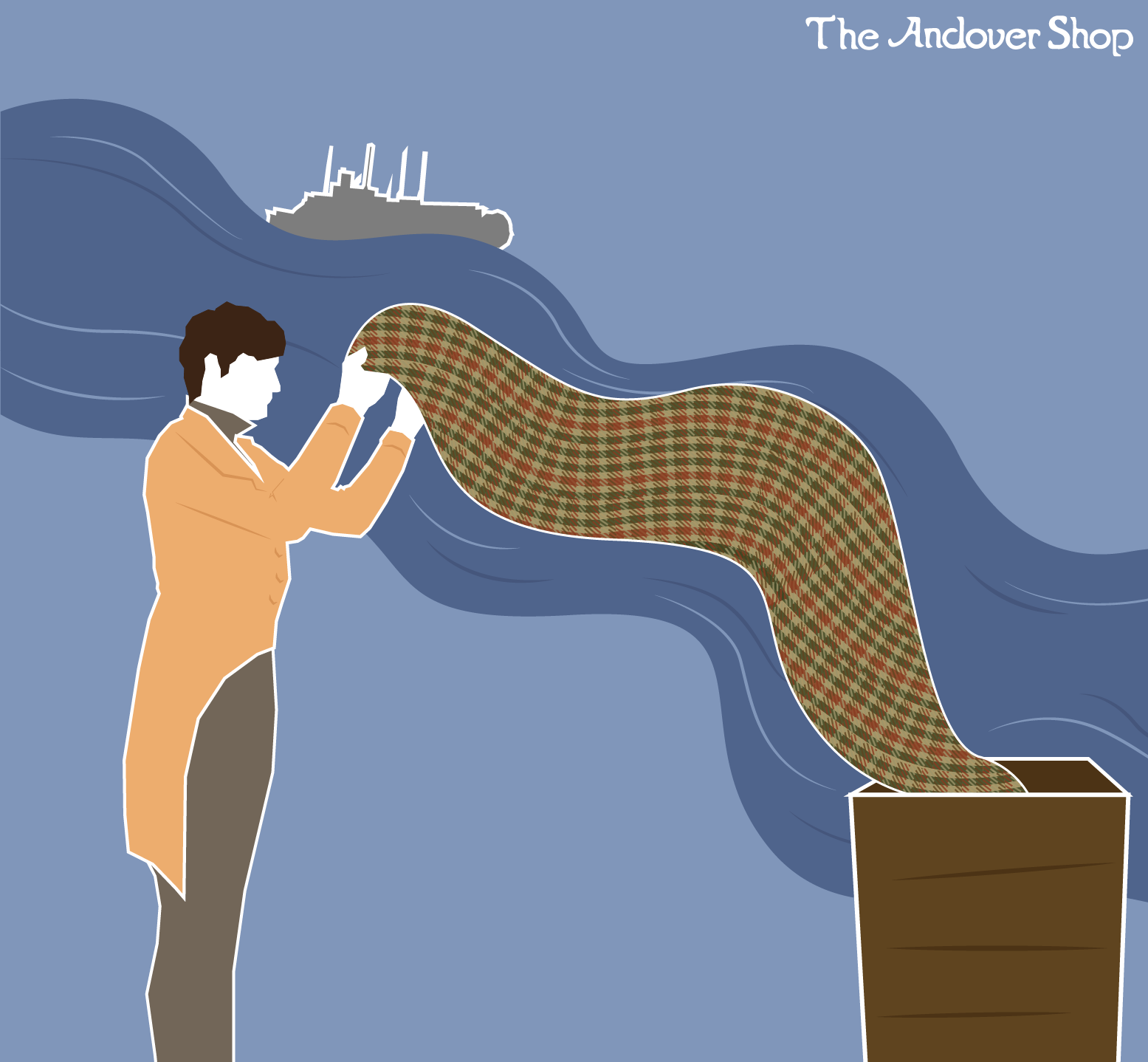 During the 19th Century, the material which had been christened tweed was adopted as the standard clothing for outdoor pursuits. While it was worn by everyone from farmers to wealthy landowners, it became associated primarily with the aristocracy. The middle class adopted tweed clothing since it had become associated with the leisure activities of the wealthy, which in turn led to tweed's acceptance as a more casual form of tailoring in both urban and rural settings.
Tweed's handsomeness, durability, and versatility led to it being adopted by American college students and forming the basis for what is known as Ivy Style today. As a stronghold of classic Ivy Style, The Andover Shop is proud to source many weights and patterns of tweed from a variety of historic mills. Keep an eye on this blog for future posts, in which we will cover different varieties of tweed.
Figure 3: Right- Kirkton swatches: A selection of 16oz tweeds
Left- Ettrick swatches: 21oz sporting tweeds for winter weather