A History of the Academic Scarf
Academic scarves, also known as rowing scarves, originated in the annual boat race between Oxford and Cambridge Universities. Beginning in the 19th Century, both schools competed heavily to coach superior rowing teams, sending their boats out in all weather. Rowers bundled up against the cold in scarves and soon each school developed its own pattern of knit stripes to differentiate its rowers on and off the water.
Traditionally made in wool Melton fabric, the modern academic scarf came about during the Second World War. Due to wartime rationing, it became difficult to procure enough yarn to satisfy the high demand for knitted scarves. Manufacturers filled this gap by taking the woven Melton cloth in their inventory and cutting it into strips to create lengthwise stripes in the appropriate colors. This practice continued after the war, creating the academic scarf we recognize today.
Figure 1: Academic or Rowing Scarves originated with the Oxford and Cambridge rowing teams in the 19th Century.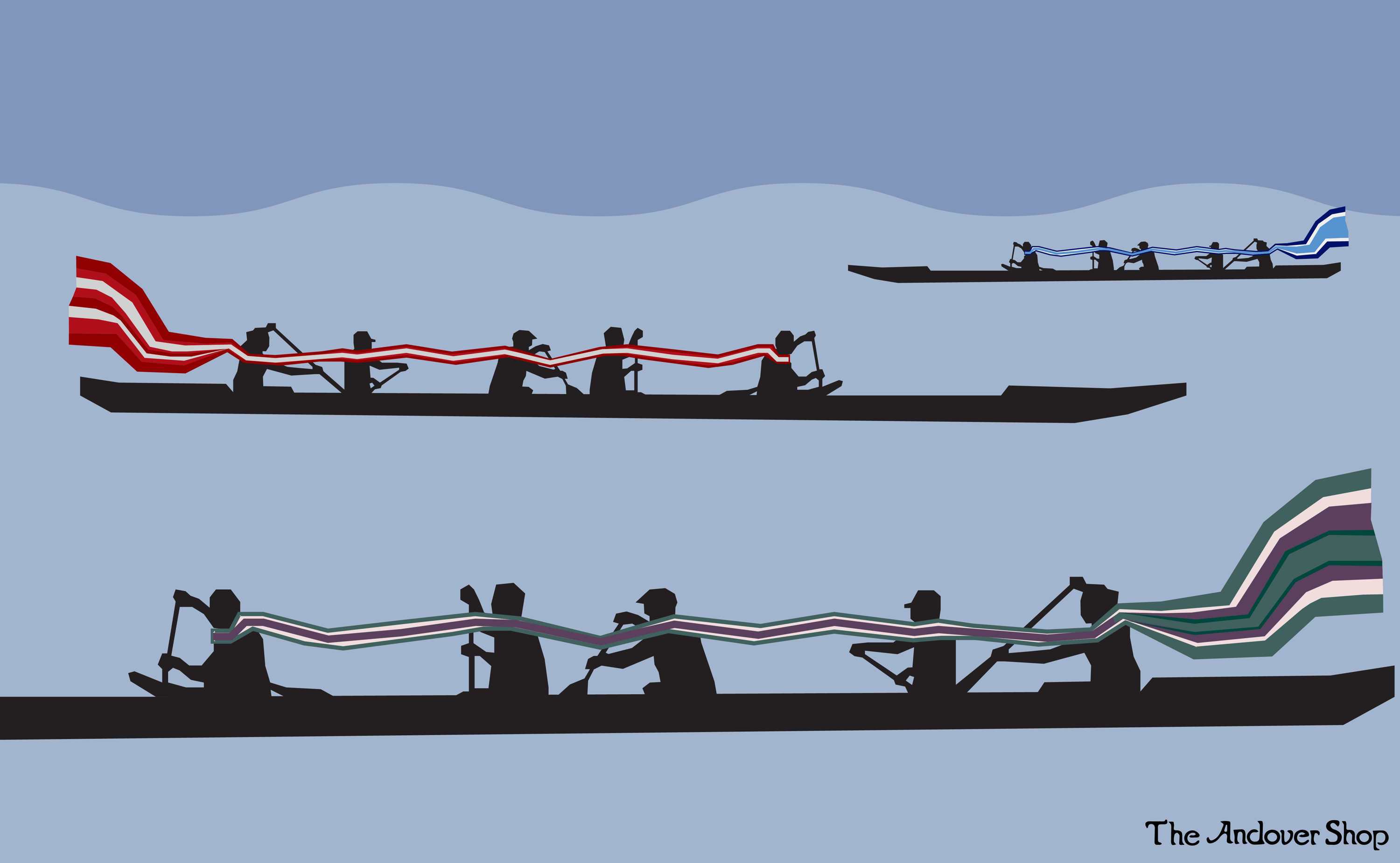 Representing Academic Institutions
Academic scarves are most common in the United Kingdom, where Universities from Edinburgh to Cardiff have their own designs. Oxford and Cambridge are most famous for the variety of scarves that represent not only the colleges that make up these historic universities, but also the sports teams and clubs that reside there. The "Blue", an award presented to sports competitors which also originated with the Oxford and Cambridge rowing teams, naturally has its own scarf so that the recipient can display the honor they have earned.
Figure 2: The Andover Shop has a selection of academic scarves in stock.
Style That Spreads Beyond the UK
Outside the UK, the tradition is carried on by other historic universities in Ireland, Canada, the US, Australia, and New Zealand. Yale's constituent colleges each have their own scarf, as do several of Harvard's residential houses. Academic scarves also exist for other historic American Universities in the Ivy League and beyond. In Dunedin, New Zealand, students at the University of Otago are referred to as "scarfies" due to the academic scarves they often wear while out in the community. In the United States during the 1950s and 60s, the style spread outside of university alumni and caught on with members of the Beat subculture because of the air of sophistication and learnedness that these scarves carry to this day.
The Andover Shop's in-house tailor produces our scarves in an opulent wool that isn't rough against your skin. We carry scarves in colors that represent Harvard University and Phillips Andover Academy, as well as a small number of limited edition scarves in colors that took our tailor's fancy. We also frequently create custom scarves for organizations and individuals, so please reach out if you are interested in commissioning some winter neckwear for yourself or your club.
Figure 3: Academic scarves' designs represent different schools and clubs, in this case the University of Dublin Theological Society.