The Perfect Fabric for Chilly Weather
Few items of clothing signal the arrival of cold weather like a flannel shirt. Along with hot apple cider and thick corduroys, a plaid shirt in the soft, fuzzy material is a fall staple we all think fondly of during the long, hot days of late summer. Flannel shirts are an essential for every closet, perfect for lounging at home, picking apples, or walking through snowy neighborhoods. But flannel covers more than just multicolored casual shirts. As suiting or trouser material, flannel is a reliable staple from fall to spring.
The attribute that makes flannel so attractive is also what makes it ideal for cold weather clothing: its soft, slightly fuzzy texture (or "nap"). Air is trapped between the loose fibers that make up flannel's top layers, providing insulation from cold winds. Flannel gets its nap one of two ways: If the thread is wound loosely enough before weaving, the resulting fabric will naturally have a nap. Cloth woven from more tightly wound threads can be brushed with fine metal combs to achieve the same effect. Because of its soft texture, flannel is more casual than smooth worsted wool material, but in a classic grey it is still incredibly versatile.
Grey flannel trousers are the cool weather alternative to khakis. The darker color naturally complements the richer tones of fall and winter, while the thicker fabric keeps your legs warmer than cotton would. As a neutral trouser, grey flannels pair easily with blazers, sport coats, and almost any sweater. Flannel trousers in other colors may be harder to find off the rack, but brown or navy flannels can be a welcome addition to your closet. In spring, cream flannels can be a dandyish throwback to menswear of the 1930s.
Figure 1: We offer a variety of different flannels for your made-to-measure needs.
Public Perception Over Time
When it comes to suiting, flannel gets a bad rap. The 1955 novel, The Man in the Gray Flannel Suit, and its 1956 film adaptation use the eponymous suit as a symbol of conformity in the American business environment. That might have been true in the 1950s when every man was sure to have at least one flannel suit in his closet, but as the bulk of men's suiting has shifted to smooth super 120s wools, the impression that flannel gives off has changed.
Figure 2: Gregory Peck embodied classic style in The Man in the Grey Flannel Suit.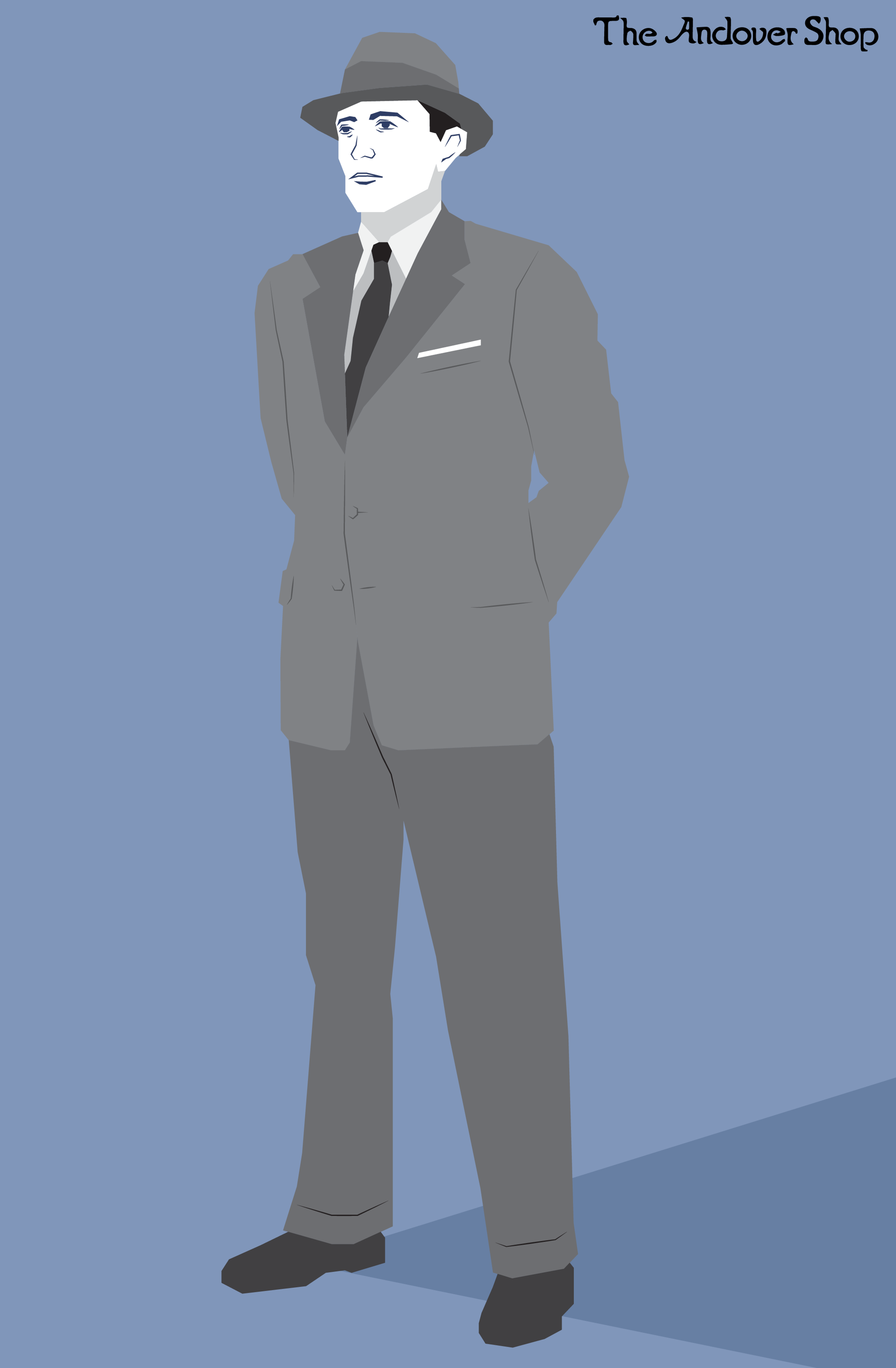 A Classic Yet Versatile Material
Today, a mid-grey flannel suit's comfortable texture has classic connotations that subtly set it apart from other materials. A flannel suit in navy with a white chalkstripe is a classic, bold garment that can convey a relaxed sense of authority, while a lighter grey suit will fit in with the 21st Century's more casual workplaces. All of these flannel suits and more are available off the rack from The Andover Shop, and our made-to-measure services offer options for custom tailoring. We also have a wide selection of grey flannel trousers, and flannel shirts in everything from blue gingham to classic plaids. Please contact either of our locations if you are interested in adding any of these to your wardrobe.
Figure 3: A flannel shirt is a classic cold-weather option.