The Variation of Tweed Patterns
As we've discussed in a previous blog post, the wool cloth collectively known as tweed was developed as a hard-wearing material for country wear in Scotland and Ireland. Using locally produced wool, regional tweeds evolved to suit the needs of the outdoorsmen who would wear them, resulting in variations that would come to represent the style of entire regions of the British Isles.
The tradition of estate tweeds, which were specifically created for men working the grounds of different aristocratic estates, came about for a couple reasons. Lords wanted to outfit their gamekeepers and other workers in a way that would make it clear whose estate they represented, and the tweed's pattern, designed to reflect the colors of the estate's foliage, would allow the workers to blend into the background in the style of modern camouflage as they went about their duties. This tradition of drawing inspiration from the regional landscape is part of what sets tweed apart from other materials and helped create one of the most well-known tweed variants: Donegal Tweed.
Figure 1: Tweed patterns allowed gamekeepers to blend in with the estate's unique foliage and colors.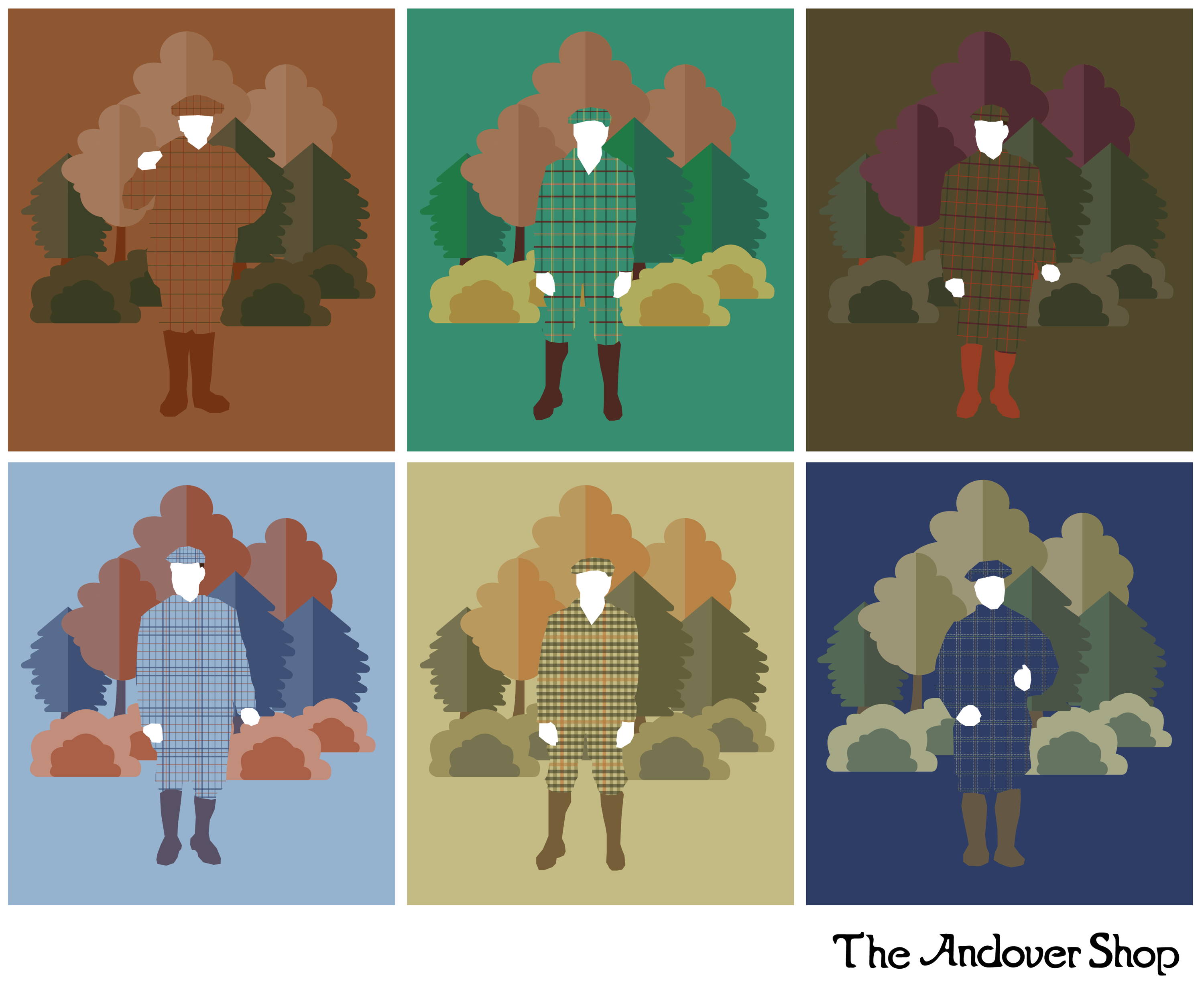 Donegal Tweed: A Reflection of the Irish County's Landscape
County Donegal, in Northwest Ireland, has been the seat of a weaving tradition for centuries. Prior to the 18th Century, linen was the most commonly produced cloth in Ireland (and to this day, Irish linen is a protected trademark). However, by the late 1700s, an increased focus on wool production began to spread from England and Scotland to Ireland. At that time, the Royal Linen Manufacturers of Ulster began a program of distributing spinning wheels and looms within rural Donegal, helping to kickstart increased production of local tweeds.
The most well-known design, which has come to represent County Donegal's tweed production as a whole, takes inspiration from the natural landscape of the county. Donegal Tweed is characterized by flecks of different colors that are distributed throughout the weave, representing the foliage, wild berries, and brown earth of the rural countryside. This fleck is usually found in a plain weave material, but it also shows up in check and herringbone patterns produced in Donegal as well.
Figure 2: Sweaters are also available in County Donegal's classic flecked yarn.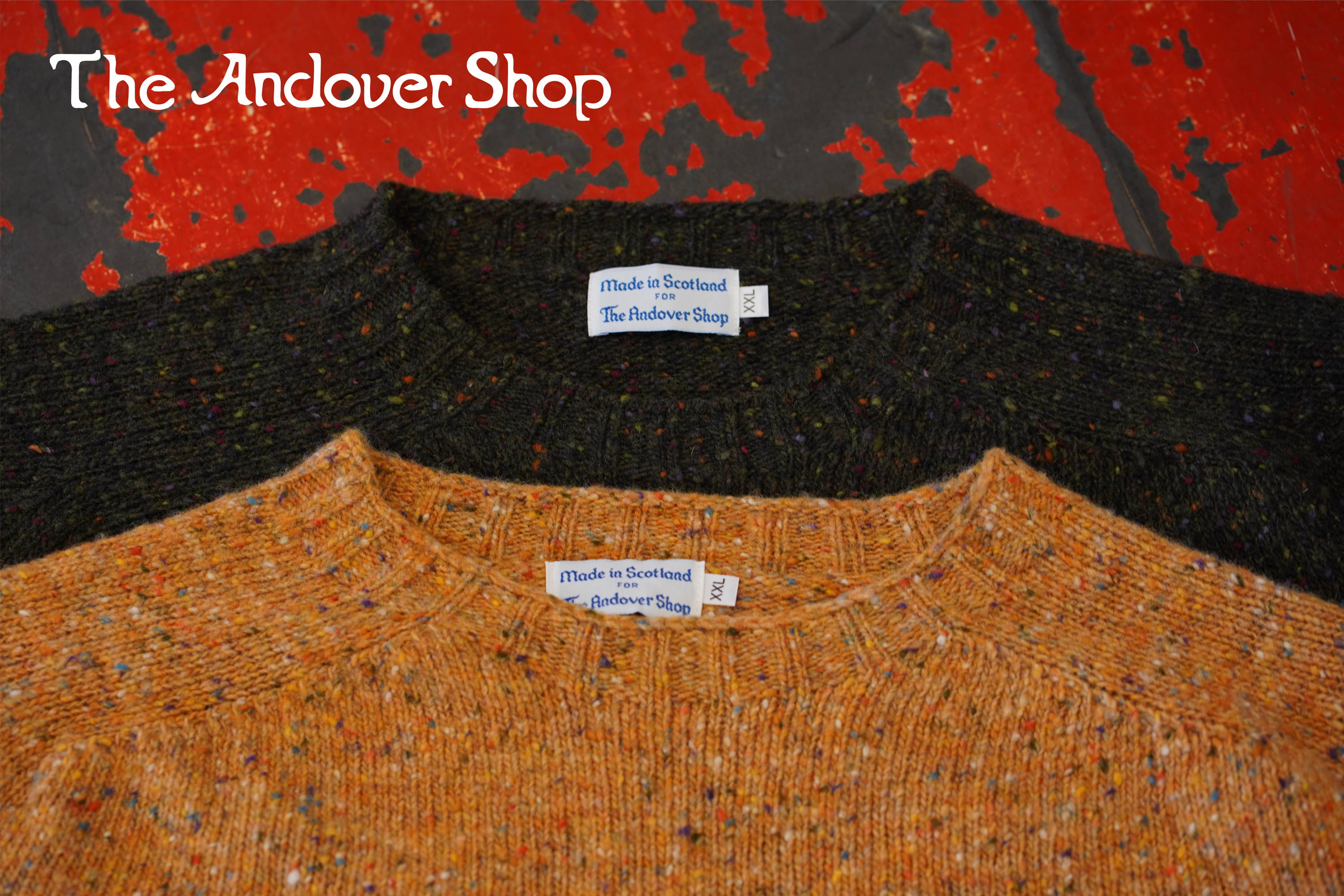 Magee Made-to-Measure at the Andover Shop
One of the most famous dealers in Donegal Tweed is Magee. Founder John Magee began buying and selling tweed in Donegal in 1866, quickly becoming a successful fabrics dealer. Ownership of the firm passed to John Magee's cousin, Robert Temple. Magee began producing ready-to-wear clothing in a Belfast factory in 1945, and opened a Donegal factory in 1960. The Temple family continues to run Magee to this day.
The Andover Shop carries some Magee jackets, as well as a variety of Donegal Tweeds to choose from for made-to-measure clothing. While you're planning your next purchase, the traditional style of Donegal Tweed, which represents its connection to the land and history of Ireland, would be a great choice for a made-to-measure jacket or suit.
Figure 3: Magee has sold tweed and clothing from County Donegal since the 19th Century.