Eric Twardzik has been a lifelong devotee of Ivy Style. "For years, I've been into Anglo-American style." Writing about menswear had piqued his interest and driven him to search stores and online for modern reproductions of the classic Ivy look, "and at The Andover Shop I found the real thing."

Eric visited The Cambridge location a couple times to get his bearings before deciding what item of clothing he wanted to have made to measure. "I work from home, so I wear sport coats because I want to, not because I have to." He consulted at length with the staff to figure out exactly what would fit his needs.
Figure 1: Eric Twardzik models his latest The Andover Shop purchase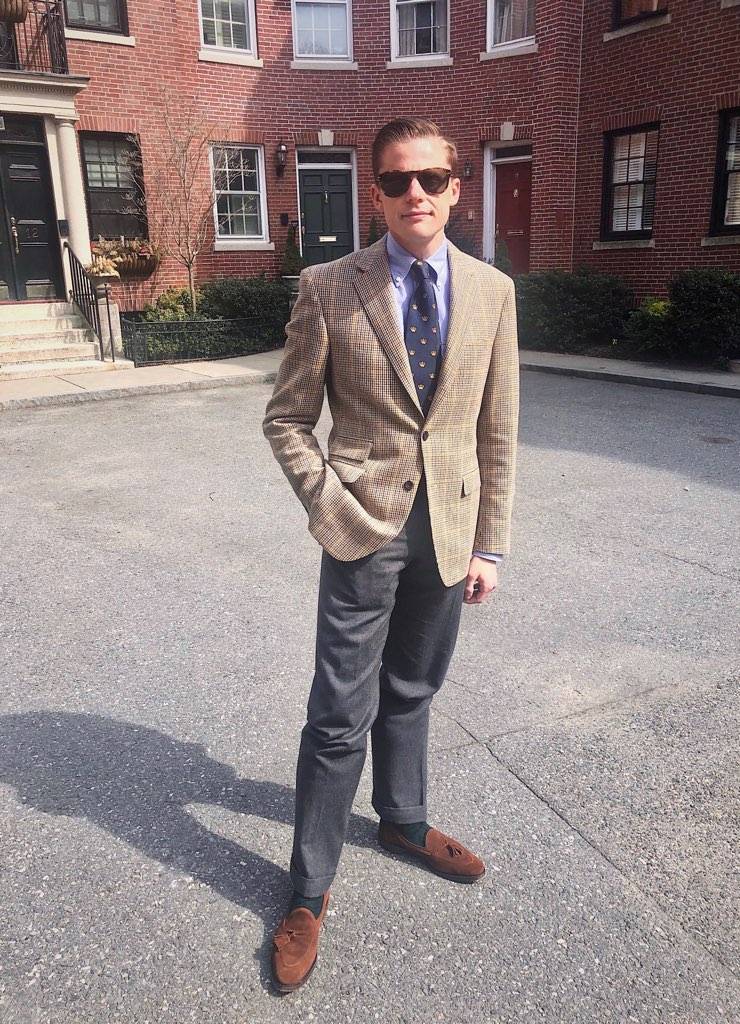 "At The Andover Shop I found the real thing."
For his first Made-to-Measure purchase from The Andover Shop, Eric was looking for a tweed jacket, comfortably structured but "dressier, finer, sleeker. Something hardy enough to be worn over a Shetland sweater but also with flannels and a tie." One benefit of the Andover Shop is the wide selection of materials available, especially the bolts of fabric stacked on the wall in the shop. He settled on a brown tweed with a streak of egg-yolk yellow running through it.
 
Another great advantage of The Andover Shop is the expertise available. "The staff is invested in helping you look good and that focus is extremely hard to find." Eric had been thinking over the length of his jacket - buying off the rack hadn't given him the flexibility to choose that dimension of his clothing, and he often found jackets too long or too short in standard sizing. He consulted with Larry, eventually lengthening a standard jacket pattern slightly to achieve the best effect for someone of his height.
Mindful purchases are the future
An unexpected result of being able to influence every dimension of his purchase was the way it changed how Eric looks at buying clothing. "Paying for the quality up front at The Andover Shop caused a huge shift for me, and all the temptation from discounted [off the rack] clothing slipped away." He found himself much less likely to make a risky purchase elsewhere, when instead he could invest in exactly what he had been searching for. "I'm not exaggerating when I say it changed my sartorial life - I feel much more focused in my wardrobe purchases, more mindful."

Finally, supporting local industry is always a plus. He feels more comfortable with a garment that is "made by union labor, for good wages, and in good condition. I want to support that." He sees his jacket as the product of his community, which The Andover Shop is a part of: "It's great to find something truly local - it's not going to be found anywhere else."