SOMEWHERE BETWEEN
MODERN AND CLASSIC

Al Castiel's new tuxedo got a workout last winter. As a law student, there were many social events he needed to attend, as well as formal events and fundraisers that tend to happen in the wintertime in the Boston area.
"Ultimately," he says, "it was a practical purchase. I needed it." Al has been coming to The Andover Shop since 2013, when he arrived in Boston for his undergraduate studies. He was immediately taken with the store and has shopped here ever since, bringing his father in a year later and turning him into a satisfied customer as well.
"I guess that's the opposite of the traditional pattern," he says, laughing. "Quality and value there are unmatched. The service is impeccable." It was that attention to detail that Al was relying on when he ordered his tuxedo last year. "I can be pretty particular about my clothing, and I knew what I wanted."
He started with the fit. "I wanted it to fall between modern and classic. Not stodgy, but traditional enough that it could last years without looking dated." He describes his personal style as walking the line between classic and "-not fashionable-let's call it 'relevant.'"
Figure 1: The difference between a classic and modern suit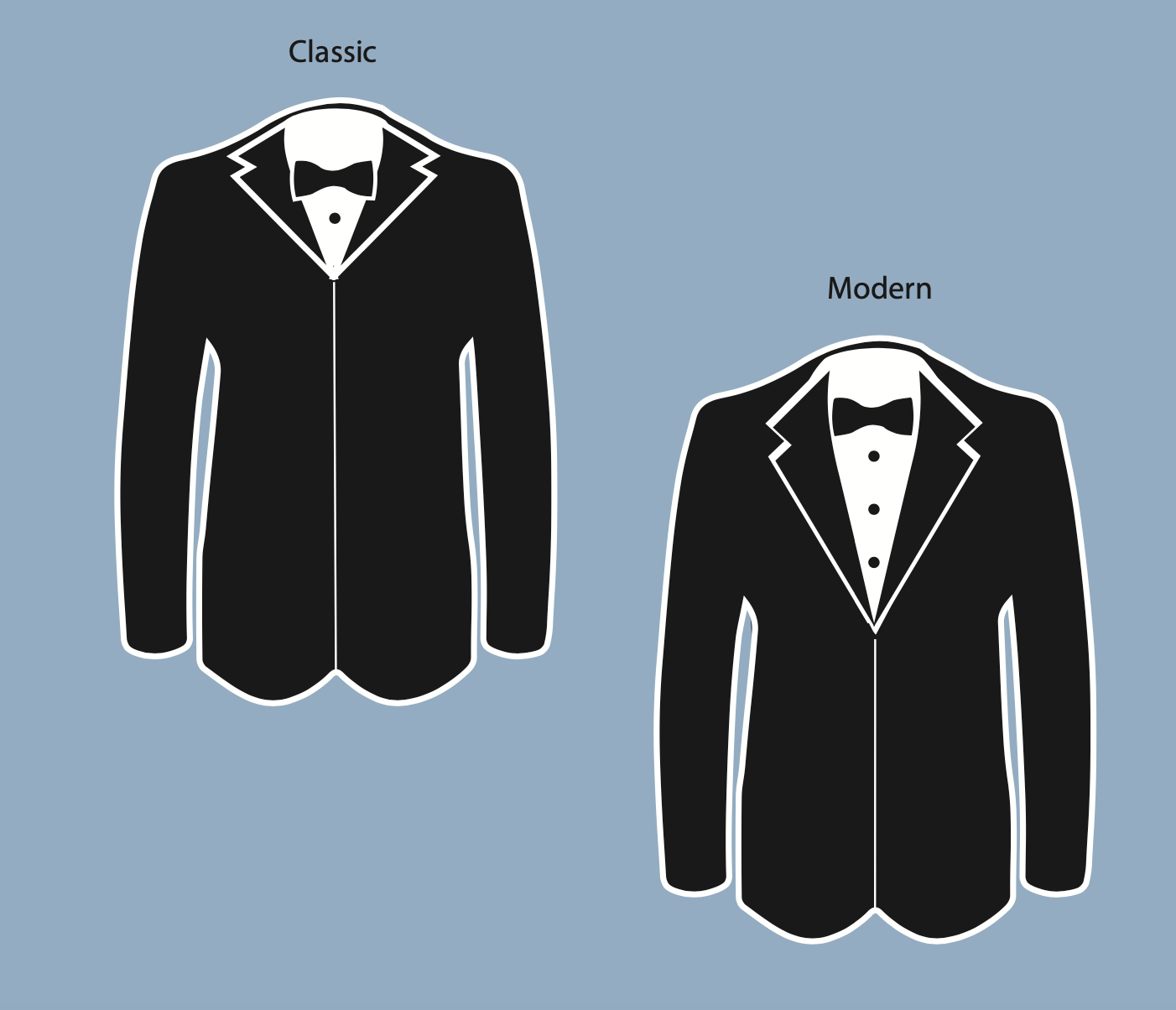 Appropriate to the history of The Andover Shop, Al was inspired by a couple eras of classic menswear. His jacket was made with no vent at the rear, a detail common to suiting in the1930s, an era which some describe as the high point of men's tailoring. The broader look of his tuxedo came from the 1960s though, in the film Dr. No.," James Bond [played by Sean Connery] first appears in a casino, wearing a tuxedo with a shawl lapel, turn-back cuffs, and jetted pockets." It's a classic look with a few interesting details that Al wanted to reproduce. The turn-back cuffs were hand-made by The Andover Shop's tailor, and the trousers were produced in-house as well. Hand-stitched buttonholes are another consideration offered by the shop that Al was happy to have on his tuxedo. "It's all part of the personal touch that you can't get anywhere else."
The Andover Shop would like to showcase our customers and their made-to-measure purchases. If you are interested, please contact us by phone or through our website for an interview.